Regular price
Sale price
$8.00
Unit price
per
Sale
Sold out
The clay and oatmeal in this shave bar creates a luxurious lather that has enough slip to allow even the cheapest razor to safely glide over the skin while providing a smooth shave. The added moisturizing oils condition and leave skin feeling hydrated and soft.
About a 2 oz round bar.
*Coconut bowl and Shave brush not included.
Cruelty-Free, Palm Oil Free, Vegan, and Zero Waste
INGREDIENTS

Olive oil, Coconut oil, Castor oil, Shea butter, Water, Lye, Bentonite clay, Colloidal oatmeal, Juniper berry, and Clove essential oils.
DIRECTIONS

Use bar as is, or for longer use and thicker lather use with a shave brush. We have both Horse Hair or Boar Bristle Shave Brushes available.

Drop shave bar into one of our Wooden or Coconut Bowls, the bottom of a mug, or a small cup. Add a small splash of water to soap and begin to brush the bar to create foam. Continue brushing until you have enough of the thick lather to work with. Add a few additional drops of water if needed.

Apply lather to skin using the brush and shave as usual.

Once shaving is complete, pour out any excess water from the cup or bowl, rinse the soap from the brush, shake off excess water and allow to dry bristles down for next use. Soap and bubbles remain in the bowl to dry, the lather will be reactivated with water during the next use.
END OF LIFE

Product, paper label and twine are all compostable.
Q&A

Q: Does this soap work like shaving cream?

A: Yes, when you lather the bar, keep lathering until the large bubbles tighten up to small bubbles which resemble more of a cream.

Q: How long does this bar last?

A: Using just as a soap bar, you will get about 4 months of shaving from the bar. Using a shave brush will extend the life of the bar to between 8 to 12 months.

Q: Is it safe to share a bar of soap?

A: You betcha, there are several well-known studies you can read up on (Check our Soap Box Blog) but the short of it is: Soap sanitizes itself, so you can share a bar with a friend and both of you will be just fine!

Q: Is this product and shaving method just for men?

A: Absolutely not! Many of us have hair in places we would prefer not to. Why would gender change how we deal with it?

Q: Can you suggest a zero waste razor?

A: Hands down our favorites come from LEAF. Although there is a bit of sticker shock at first, the replacement blades cost pennies and this razor will be with you for at least a dozen years. They have several options based mostly on where you plan to shave, but we enjoy the multi-blade flexible head of the Leaf Razor.
View full details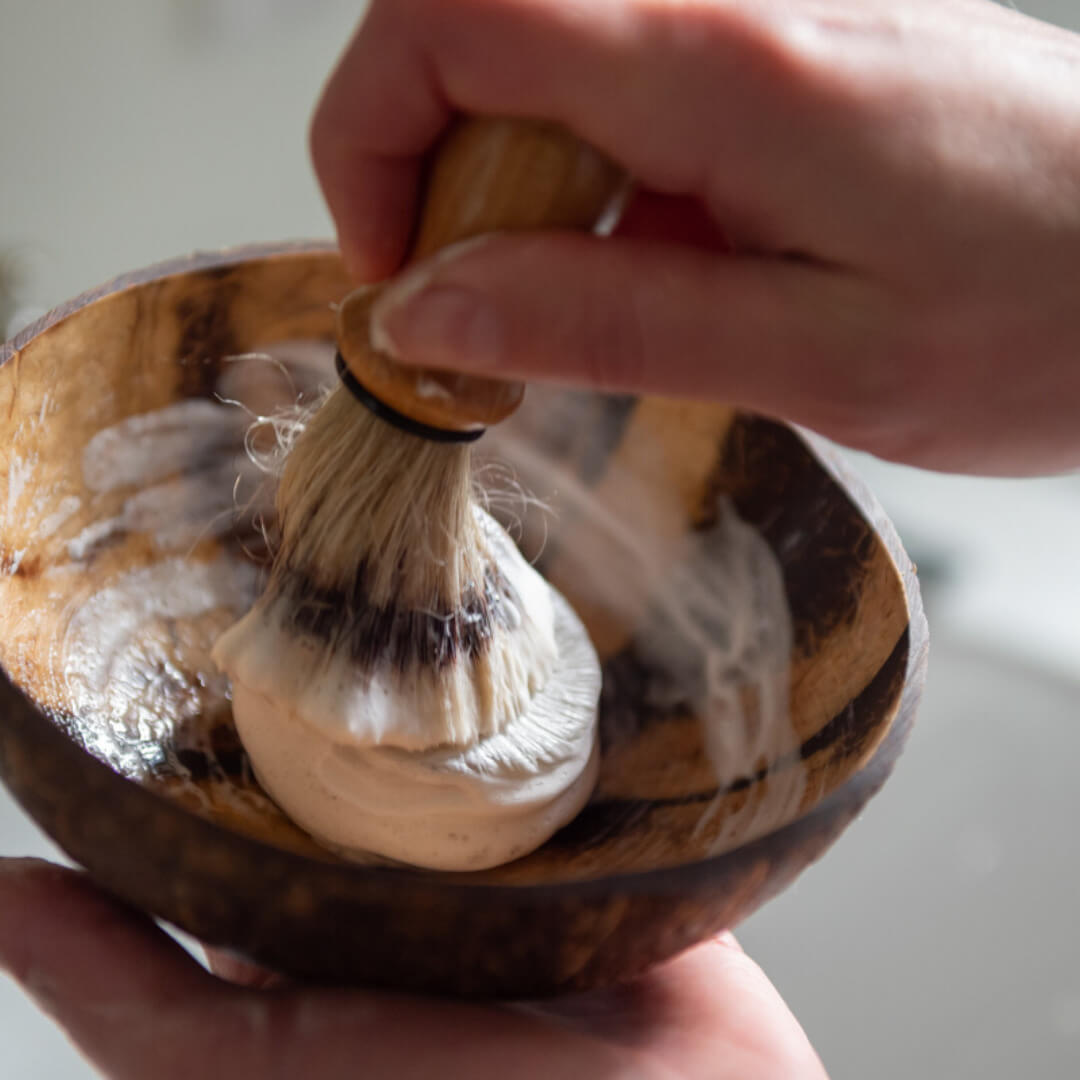 Never going back shaving creams
I've been using the shave bar exclusively for the last 3 or 4 years, and never have irritation.
The soap is very good but I do not like these obtrusive surveys.
Repeat Customer
I often resist reviewing anything until I've tried it. I've purchased 3 shave bars in the past and all have performed as expected. The bar creates a creamy foam and leaves my skin smooth and clean. Plus only a recyclable label is attached. No trash!
The picture of the product showed 3 shaving soaps.
I thought the price was a bit high but I said what the heck 3 soaps not too bad even with the extra for shipping. However upon receiving the package I found only one soap. I went back and doubled checked and yes the picture showed 3 but the description said one. Not only was it one piece the piece was extremely small compared to the soap I have been using for 30+years, that costs 99 cents is about 75% larger and lasts many times longer. I am going back to my Williams shave soap. In all fairness the product did give a nice shave. The cost is ridiculous. I think with shipping it came out to about $11.00. Back to the local store for me.
Hi J.
We're glad you found the product worked well for you! But we are sorry to hear that the image was confusing for you, we will look at updating that to avoid confusion in the future!
All of our products are handmade in small batches using only natural ingredients. So, it is pretty likely our items will be more expensive than at a big box store, where that isn't the case. This bar in particular is small, but definitely mighty - for most folks they find a single bar lasts them up to a full year worth of daily shaving!
For the shipping costs, we hear you! Those are an absolute bummer for us too! We found that shipping prices have gone up almost 50% in the last two years. We do what we can to minimize those charges, the price you see is our actual cost, there are no handling charges added. We try our best to be transparent in all we do - Which is why we don't often offer 'Free Shipping' like some other companies who end up rolling those charges into the cost of the product.
Appreciate the feedback!
Kim (Owner)