Regular price
Sale price
$10.00
Unit price
per
Sale
Sold out
This solid bug repellent is a great alternative to a bulky spray. Perfect to keep in your backpack or purse for use at backyard barbecues, bonfires, or walking around town.
1 oz metal tin.
Cruelty-Free, Palm Oil Free, and Zero Waste
INGREDIENTS

Coconut oil, Shea butter, Beeswax, Citronella, Peppermint, Lavender, Rosemary, Tea tree, Cedarwood, and Eucalyptus essential oils.
DIRECTIONS

Apply a small amount to exposed skin, focused on pulse points to keep bugs at bay.
END OF LIFE

Reuse or recycle metal tin. This item is also part of our Take Back Program, more information at link below.
TAKE BACK PROGRAM
Q&A

Q: What are the best places to apply this Bug-off Balm?

A: We like to put a small amount around our ankles, wrists, and neckline. This helps to create a small circle of protection, keeping the bugs from stopping by.

Q: How much should I use?

A: You don't need much to find it effective. We scrape just a small amount (not even pea size) and rub that on ankles, wrists, and neckline. You can always add more if you feel you need it.

Q: What if I already have a bunch of mosquito bites?

A: We can help with that too! We have two options, you can use our Itch Stop Serum, or if you are feeling DIY you can use Bentonite Clay.
View full details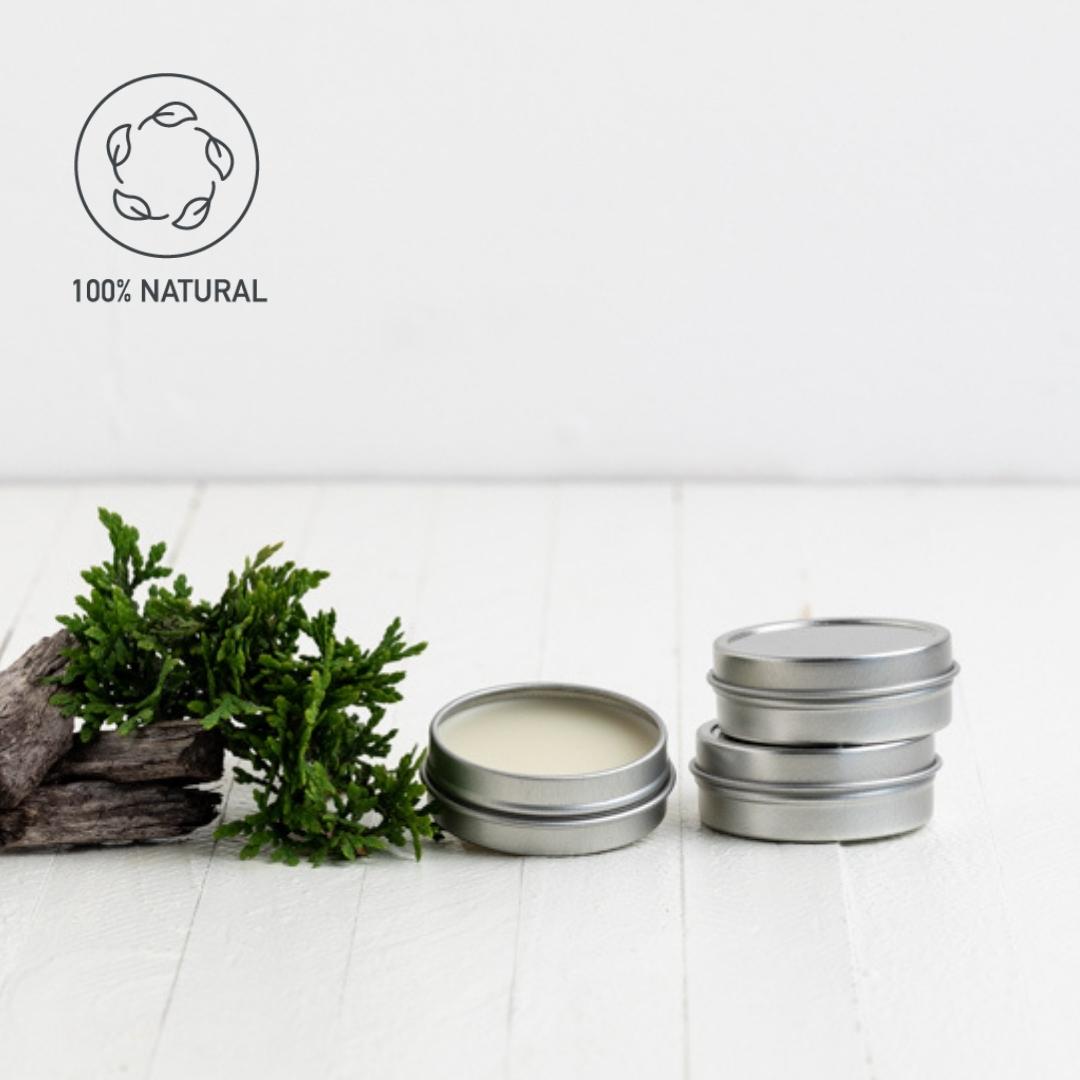 take back program
What is a Take Back Program?
A Take Back Program is an initiative organized by a manufacturer, to collect used materials from consumers and reintroduce them to the original manufacture cycle. Typically implemented to minimize product end-of-life waste and reduce environmental impacts.
Why?
We have a very strong personal and business drive to do everything we can to minimize our carbon foot print, and lessen the waste resulting from our products once they have reached the end of their life span. This is the least we can do. 
How do I participate?
Collect at least 5 empty glass or tin containers of Sebesta Apothecary products. 

Drop the empty containers off

When you see us at a scheduled event
Select retail locations:

In the Sebesta Apothecary Lab's Order Pick-up Box in NE Minneapolis (DM for address)

Let us know! Email/DM to tell us how awesome you are

We will send over a coupon code for $5 off your next order. 
I live out of state but would love to participate - is that possible? 
Not currently, we are looking for ways for those outside the Twin Cities to participate. Watch for updates as we sort through those details. 

 But, what items specifically can I give back to you?
All empty tins

Lip balm
Healing balm
Bug off balm
Beard balm
Paw-tector

All empty vials, lids and roller balls

Everything serum
Aromatherapy rollers
Itch stop serum

All empty sprayer, dropper for refill bottles and tops

Magnesium spray
Grooming oil
Moisturizing face serum 
Can you accept other brand's containers?
No, unfortunately at this point we can only take back containers from Sebesta Apothecary products. 
What do you do with the empty containers?
Remove product and labels
Sanitize, sanitize, sanitize
Reuse
Let's do what we can to reduce waste! 
"Never doubt that a small group of thoughtful, committed, citizens can change the world. Indeed, it is the only thing that ever has."
- Margaret Mead