Our company philosophy was built around reducing our environmental impact while still creating products that are gentle and high quality. Every aspect of our business is built with that purpose in mind. You will see this thread runs through the decisions we make about ingredients, packaging materials, and partnerships we make in the community. Here are just a few ways we live this philosophy! 
Ingredients
There is a troubling trend of commercial industry and manufacturing having negative impacts on air quality, deforestation and wildlife. While we do not use synthetic ingredients in any of our products, there are some concerns even with those ingredients that are available in nature. Several well known examples of natural ingredients that cause concern (ie. Palm oil) have resulted in consumers educating themselves and changing their buying habits to avoid them. There are however many ingredients that while not as well known, are causing similar effects. We craft our recipes to avoid these ingredients and continue to monitor the industry so we can quickly adjust if needed. 
Palm Oil: Palm oil production is well known for causing not only deforestation but the devastation of habitat for some of the most at risk animals like orangutans, pygmy elephants and and Sumatran rhino. While there is a certification available for "sustainably sourced palm oil" the organizations enforcement is lacking and hard to monitor. 

Until there is stronger enforcement for these certifications, they don't mean much. Which is why we choose to use alternative plant oils and avoid palm oil all together.

Sandalwood Essential oil: Sandalwood Essential oil is another ingredient that is very popular, smells divine but it's popularity is putting it at risk of extinction. The oil is extracted exclusively from the middle of the tree once it hits maturity, which can be 30 or more years. Grown primarily in India, the government has tried to quell the demand and production, even halting export all together several times. This has caused continued scarcity of the oil and the price spikes unfortunately have poachers stepping in to meet the demand. We choose not to participate in the continued pressure on this industry so it is an ingredient you will not see listed in any of our products. 
Continued monitoring:

Our promise to you is that we will continue to monitor the ingredients we use and adjust as necessary. We reference several resources to make these decisions and suggest consumers also educate themselves to make positive impacts with their buying choices.

The Red List: A

comprehensive list that helps suppliers, manufacturers and individuals make conscious decisions about their actions. This list is 

managed by the International Union for Conservation of Nature's Red List of Threatened Species.

The Coalition of Sustainable Perfumery:

 This easier to digest list references the Red List and other resources to provide guidance specifically for aromatic plants used in essential oils. They also have resources to help you find alternatives to the endangered ingredients if you are looking for similar scents or benefits. 
A Tree Planted With Every Order
We partner with Ecologi for several eco-conscious initiatives. Our favorite being that with each and every order (in-person, online, retail and wholesale) we plant a tree, at no cost to you, in your honor. How many have we planted so far? Check here!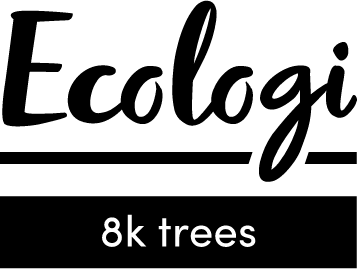 Shipping is Carbon Neural and Plastic-Free
Every order that ships out is not only carbon neutral but adheres to our plastic free promise. 
Carbon Neutral shipping: We partnered with a company called Offset by Shopify to use a portion of our profits to offset 100% of carbon emissions for shipped orders. Currently the offsets are funding the Acapa – Bajo Mira y Frontera Forest Conservation Project in Colombia through Pachama. The Carbon emissions (CO2) from your shipment are calculated using industry models to determine the amount of CO2 that is released into the atmosphere for each shipment. This model takes into account the order's weight, distance traveled and type of transportation used to accurately calculate the emissions. 
Plastic-Free Promise: We promise your order will be packed without plastics. We use cardboard boxes, pre-read newspaper packing materials, water-activated natural gum paper tape, and paper shipping labels. The only time you might encounter plastic is the rare but reused packing materials we have received from product  deliveries, in order to reduce waste. 
Local? Skip The shipping! 
We provide an option for our local customers to pick up their orders while they are out running other errands. This eliminates the need for shipping and packing materials and the carbon footprint caused by the delivery. 
Carbon Neutral Business
We are a Certified Carbon Neutral Company! Through Ecologi and our continued direct funding of their work, we are a certified carbon neutral company with a climate positive workforce! 
That means that each of Sebesta Apothecary employee's entire carbon footprint is offset! At work this includes daily activities like production, overhead and business travel. But this also includes each employee's emissions at home, personal travel, holidays, food, hobbies and more!
Through this program each month we're planting groves of trees in our company forest, and financing carbon reduction projects from around the world. Here is a list of projects supported by Ecologi, most recent first (Sebesta Apothecary has been a supporter since June 2020)

End of Life
Responsible manufacturing means that we are there for the entire life of the product, even at the end. Our goal is to provide you with the information you need to support a low or zero waste lifestyle.  
End of life steps: On our website we provide guidance for what can be done at the end of each product's life. Most of our products are limited packaging or package free so you will see the steps like we have for our Body Bar Soaps "Paper tag is recyclable or compostable, product and twine are compostable." For products that require some sort of packaging you will see we have made conscious decisions in regards to that as well. Our "plastic bag" is actually made using corn and biodegradable. All glass bottles and jars as well as metal tins are part of our Take Back Program. 
Take Back Program: Our Take Back Program collects used packaging from consumers and reintroduces them back into the manufacture cycle. We take back all of our glass jars, bottles and vials as well as metal tins. These materials are sanitized and reused, learn more here. 
How else can businesses like ours support your zero waste/ low waste lifestyle?