Regular price
Sale price
$12.00
Unit price
per
Sale
Sold out
When used in combination with the shaving bar, this brush provides a high-quality, luxurious wet shave without waste. The bristles of this brush are made with horse hair, the most humanely sourced option, and the wooden handle results in an eco-friendly option for shaving.
*Coconut bowl and Shave bar not included.
Cruelty-Free and Zero Waste
INGREDIENTS

Horse hair with wooden handle.
DIRECTIONS

SHAVE BRUSH MAINTENANCE
This brush is natural hair that will have a scent. Before first use, soak bristles in white vinegar overnight, rinse and allow to dry. Repeat if necessary. The scent will fade completely with use.

If brush hair gets tangled use a fine-toothed comb to gently comb hairs straight again. Tangles can occur when too much pressure is placed on the brush while lathering. Try using gentle brushing and alternate from back and forth to circular lathering motion.

If the brush gets dirty, gently hand wash with warm (not hot) soapy water. Do not place in dishwasher.

SHAVING DIRECTIONS
Drop Shave Bar into one of our Wooden or Coconut Bowls, the bottom of a mug, or a small cup. Add a small splash of water to soap and begin to brush the bar to create foam. Continue brushing until you have enough of the thick lather to work with. Add a few additional drops of water if needed.

Apply lather to skin using the brush and shave as usual.

Once shaving is complete, pour out any excess water from the cup or bowl, rinse the soap from the brush, shake off excess water and allow to dry bristles down for next use. Soap and bubbles remain in the bowl to dry, the lather will be reactivated with water during the next use.
END OF LIFE

Paper tag is recyclable or compostable, twine is compostable. Brush is compostable when the center plastic ring is removed and thrown away, due to the length of compost time, industrial compost facility recommended.
Q&A

Q: Why offer a horse hair shave brush?

A: This style of brush was actually one of the most popular options many years ago but they fell out of favor during World War I. Horse hair is actually trimmed from the mane or tail of the live animal which makes it the most humanely sourced option. Other animal hair brushes are made using byproduct from the meat industry.

Q: Do you have a vegan shave brush option?

A: No, unfortunately, many of the vegan shave brushes use a synthetic (plastic) bristle. We are continuing to research options and will launch a vegan/compostable option once that is available!

Q: Is this product and shaving method just for men?

A: Absolutely not! Many of us have hair in places we would prefer not to. Why would gender change how we deal with it?

Q: Can you suggest a zero waste razor?

A: Hands down our favorites come from LEAF. Although there is a bit of sticker shock at first, the replacement blades cost pennies and this razor will be with you for at least a dozen years. They have several options based mostly on where you plan to shave, but we enjoy the multi-blade flexible head of the Leaf Razor.
View full details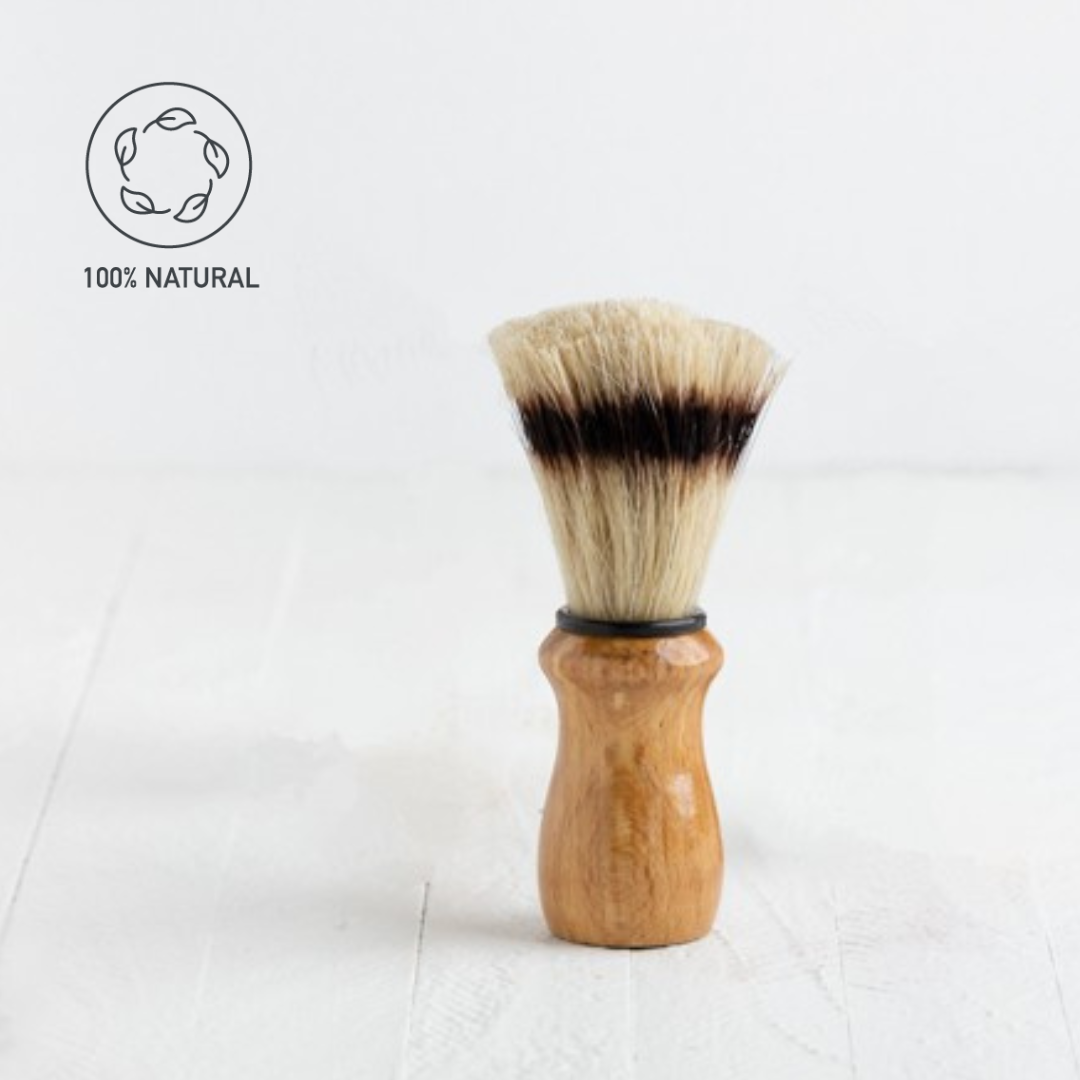 Amazing brush!
I had been given an acrylic-handled brush over twenty years ago, and this had taken too many tumbles off of counters for my liking, chipping the past in numerous places. I looked all over, both locally and online, for a wooden-handled brush, but could only find those with the brand label plastered all over--and I don't see the point in advertising for myself.
I sent an inquiry email about the brushes, and Kim replied almost immediately. Cut-to-the-chase, I now have a brush that I am proud of, without labels, which works amazingly well. I did use vinegar to soak the brush in to cut down on the "new brush smell," but that's going to happen wherever the brush is bought from.
Thanks, Kim, for your note included with the brush! I even got a travel-size soap disc that smells amazing!
Kudos!